COMMERCIAL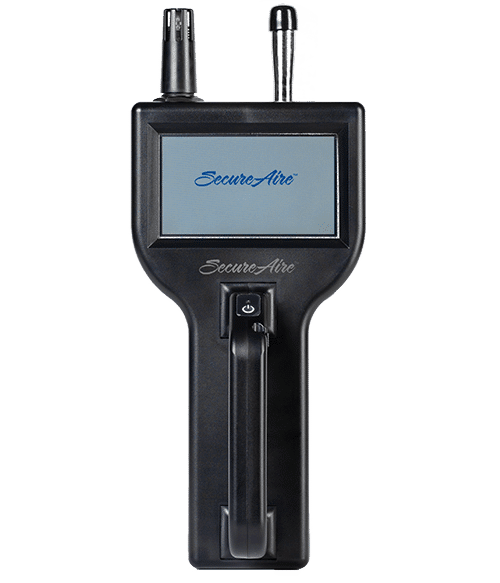 AQM-150 Air Quality Monitor System
Indoor Air Quality has become one of the top concerns for building owners, occupants, and visitors. At SecureAire our mission is to provide state-of-the-art technologies to help reduce or eliminate all unfriendly airborne contaminants from Indoor Air. While there are many "air purification" systems available in today's marketplace, the diagnostic tools needed to verify their advertised performance within the breathing zone have been lacking.
With the need to measure and verify performance of air purification systems within the breathing zone, SecureAire has developed it's next-generation Air Quality Monitor, the AQM-150. The AQM-150 is a state-of-the-art particle monitor that has the ability to measure both small and large particles so that building operators can quantify the real-time performance of their existing filtration systems. An independent measurement tool provides owners and operators with real-time data that provides the ability to understand and address any potential airborne contamination ingressions.
SecureAire's AQM-150 is an inexpensive, reliable, and easy-to-use instrument. It gives you the ability to measure particle levels that assist with the indoor air quality control of bacteria, virus and ventilation contamination. With a built-in color WQVGA touch-screen display and the ability to easily download data, real-time information is literally at your fingertips. Data is automatically stored for downloading and printing following a few easy steps. The touch-screen display quickly and accurately provides you with a visual readout of your systems performance.
The AQM-150 provides data in a form similar to the graph shown to the left. It has the ability to graph three particle size channels including 0.3, 0.5 and 2.5 microns, allowing you to easily monitor and determine the effectiveness of your building's HVAC filtration system.
Features
Indoor Air Quality Monitor that measures both small (0.3, 0.5 micron) and large (2.5 micron) particles.
Measures the number of particles per cubic foot, not by weight!
Benefits
Provides clients with the ability to perform 1st Party Tests.
Provides "real time" data at the sampling rate of a cubic foot of air per minute.