Indoor Air Quality (IAQ) is an Invisible Problem – But it's More Important Than Ever
Americans spend 90% of their time indoors, where viruses and bacteria spread more easily, and some pollutants are two to five times more concentrated than outdoors. As we continue to fight communicable diseases, it is more important than ever people know the air they are breathing indoors is safe from harmful particles. SecureAire's new AireWellness Certification Program will provide anyone who spends time indoors with the peace of mind that the air they're breathing is safe.
Look For the AireWellness Seal
The AireWellness program will provide visitors with the information they need to make informed decisions about where they live, work and play. Buildings that meet or exceed the AireWellness program's standards will be awarded an AireWellness decal to provide a visual indication that a building has advanced and proven technology working behind the scenes to combat invisible airborne pathogens.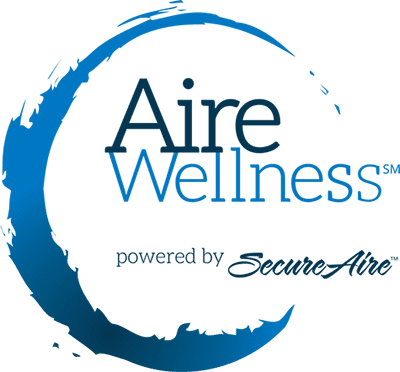 How it Works
The program will award certification to any indoor space that has installed SecureAire air purification technology and documented a significant reduction in ultrafine particulate matter and a significant reduction in fine particulate matter within a ventilated space. These particles are the most dangerous to human health and include viruses, bacteria, fungi, and volatile organic compounds (VOCs). SecureAire's Active Particle Control Technology exceeds these standards. Read more here.
St. Mary's Hospital for Children Testimonial
Interested in applying for AireWellness certification?
Please fill out the form below, and we will get in touch with you!
* = Required.