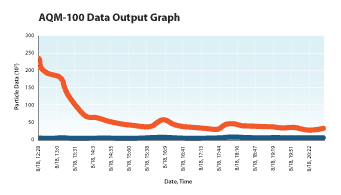 AQM-100 Air Quality Monitor System
Indoor Air Quality has become one of the top concerns for building owners, occupants, and visitors.  At SecureAire our Mission is to provide State of the Art Technologies to help reduce and or eliminate all unfriendly particulates from Indoor Air.  While Electronic Air Purification Systems are clearly the wave of the future, all of the tools needed to verify that the Indoor Air Quality is in fact as good as it's advertised to be, have been lacking.
It was this premise that drove SecureAire to develop the AQM-100.  The AQM-100 is a State of the Art Particle Monitor that has the ability to measure both small and large particles so that building operators can quantify the real time performance of their existing filtration systems.  The Real Tim Test, which the AQM-100 affords you, provides owners and operators with real time data thus providing the ability to understand and address any potential particle ingressions.
The AQM-100 is an inexpensive, reliable, and easy to use instrument that provides you with the ability to measure particle levels in order to control bacteria, viruses and ventilation contamination levels.  With a built in LCD display, there is no data to download, control systems to navigate or time lag to obtain a view into your systems performance.   In addition, the AQM-100's computer software package, with easy to use menus, allows you the ability to download data (without Excel) to be reviewed at a later date, or in real time. This data is automatically stored. The computer software output display quickly and accurately provides you with a visual readout of your systems performance.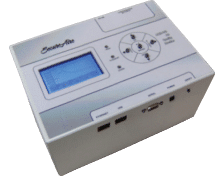 Features
Indoor Air Quality Monitor that measures both small (0.4 micron) and large (2.5 micron) particles.
Measures the number of particles per cubic foot, not by weight!
Benefits
Provides clients with the ability to perform 1st Party Tests.
Provides "real time" data at the sampling rate of a cubic foot of air per minute.